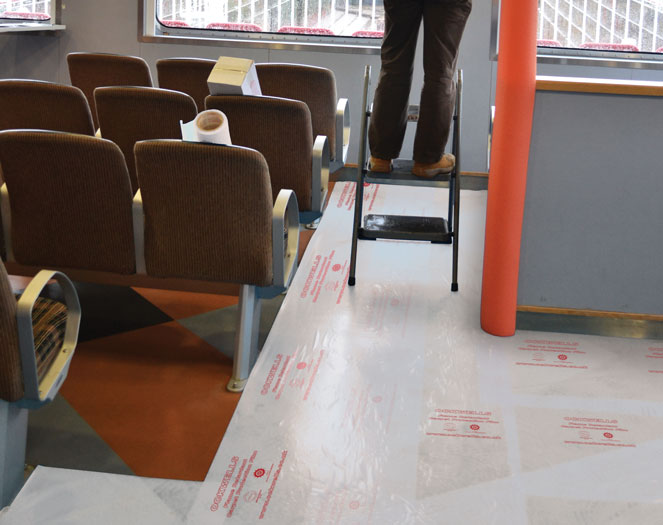 Call your local branch to enquire about this product:
Developed to protect carpets during any new build, dry dock refit and on the run maintenance projects
Manufactured from heavy duty flame retardant polythene film with a special low tack adhesive back, Flame Retardant Carpet Protection Film comes with embossing as standard.
Ideal protection for cabins, stairways, corridors and open plan areas.
Designed to protect carpets on floors, steps and stairs on a temporary basis without creating trip hazards, unlike the traditional method of using dust sheets.
Ockwells Self Adhesive Flame Retardant Carpet Protection Film should only be used to protect carpet for up to 4 weeks.
Because there are many variations in carpet fibres and installation methods, the purchaser and or user should test the suitability of the carpet protection film in an unexposed area.
Carpet Protection Film is for temporary protection of carpet for up to 4 weeks
Carpet protection film is for carpeted surfaces only.
Do not apply to wet or damp carpet.
Cover entire carpet, do not use as a runner.
All carpets that are to be protected with carpet protection film should be clean and free from dust, dirt and excessive loose fibres.
Newly installed carpet should be allowed to ventilate for at least 24 hours.
Carpet protection film is not recommended for oriental or antique carpets.
Not for use long pile, on looped or wool carpets.
All loose rugs and doormats should be removed from carpeted areas prior to carpet protection film being applied.
Where smooth nosings or carpet plates are used, they should first be lined with Ockwells Easi-Peel (Easy Tear) Tape before covering over with carpet film.
If carpet protection film is to be exposed to temperatures over 95F, direct sunlight or outdoor exposure, the product should be inspected every 3 days and replaced as needed.
In extremely heavy traffic conditions the carpet film should be inspected every 3 days and replaced as needed.
Application Instructions
We recommend that a carpet film dispenser is used for ease of application and to ensure that the film is left smooth and crease-free. Applicators are available in 600mm and 800mm-1200mm universal dispenser.
To apply; remove the protective wrap, locate the start of the film, unwind about 300mm of the carpet protection film and place on the carpet adhesive side down.
Apply slight pressure over the top of the film while unwinding in the direction you wish to apply.
Roll out to the desired length and then cut with a safety knife.
Attributes
Accreditations
Certified to 1121/18 164.112/1121/EWC/MED0329
Certified to TS63 approved product CF748
Product Options
| | |
| --- | --- |
| Description | Dimensions |
| FR Carpet Film | 600mm x 100m |
| FR Carpet Film | 800mm x 100m |
| FR Carpet Film | 1200mm x 100m |
| Dispenser | 600mm or 800 – 1200mm universal |