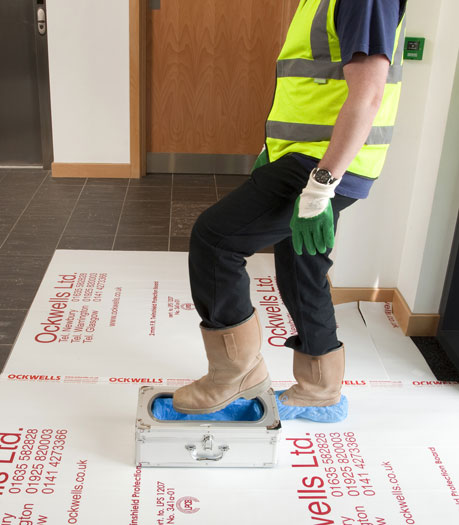 Call your local branch to enquire about this product:
Standard overshoes are made from durable polythene, Heavy Duty overshoes are made from Tyvek.
Both can be worn over shoes and work boots to protect carpets, laminate/vinyl flooring and most other finished surfaces.
One generous size fits all
Cost effective protection for finished surfaces
N.B – Not suitable for use with automatic overshoe dispenser
Product Options
Heavy Duty Overshoes (tyvek)50 pairs per pack
| | |
| --- | --- |
| Description | Dimensions |
| Standard Overshoes (PVC) | 50 Pairs per pack |
Disposable Overshoes with Automatic Dispenser
The automatic dispenser is precision engineered to provide durability and reliability to dispense overshoes up to size 14 on shoes and up to size 12 on site Rigger boots. Easy to use and reload with overshoes.
Light, durable, non-staining and biodegradable
Textured to provide grip and prevent slipping even on polished surfaces such as vinyl & marble
Tested for slip resistance on all surfaces associated with the hospital environment
Dispenser comes with a free carry case, 100 overshoes and a one year guarantee. Additional overshoes come in packs of 100 or 2000
Full set of instructions for reloading overshoes available.
Product Options
Pack Quantity
Each refill box contains 100 (PVC) shoes (50 pairs)