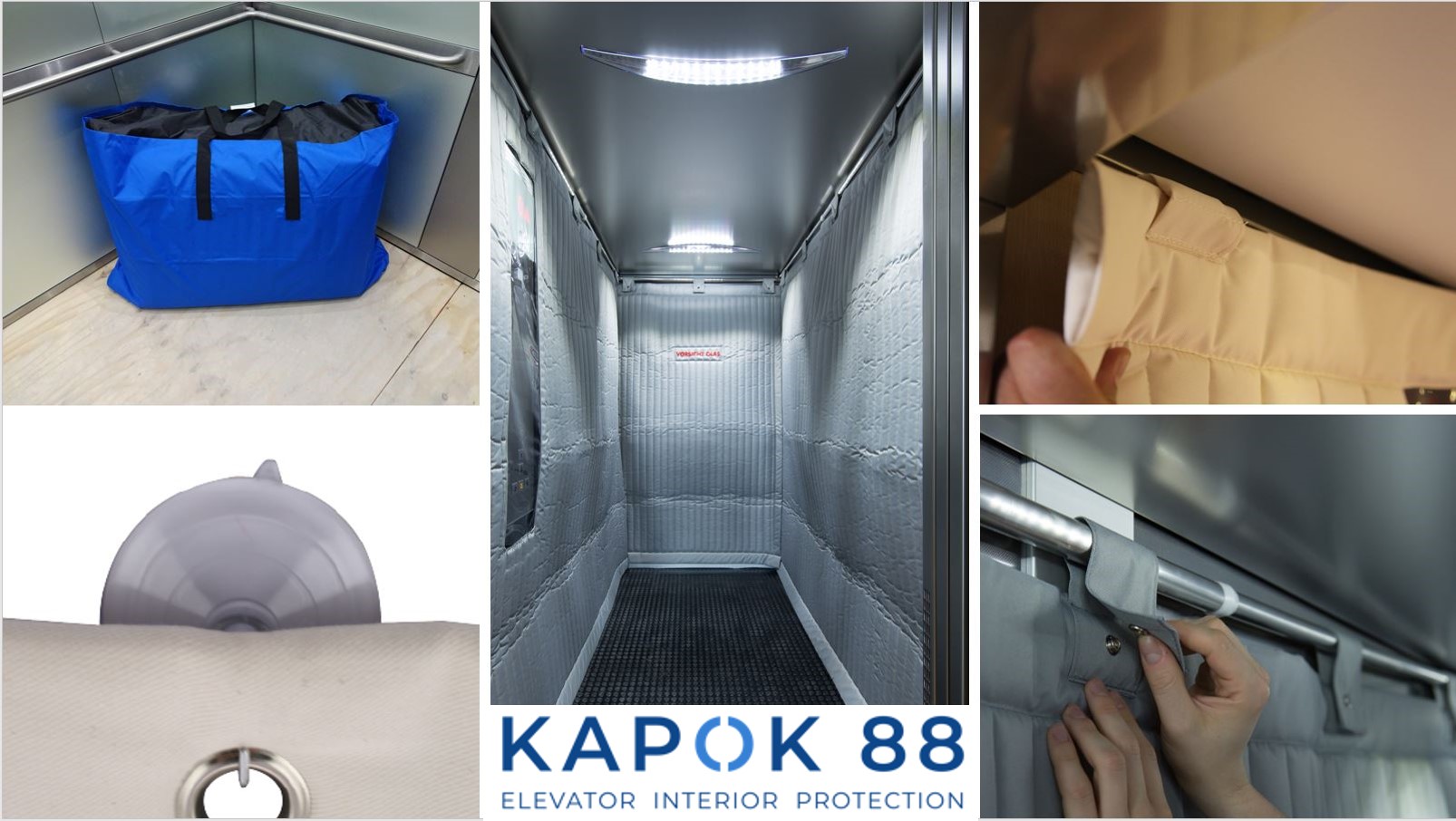 Call your local branch to enquire about this product:
Lift interiors are particularly prone to damage during refurbishment as they are often used to transport materials to upper floors, providing adequate protection is therefore essential in order to prevent costly repairs to damaged interior walls (and floors).
These water repellent and flameproof padded drapes are the ideal solution to protecting your lift interiors. The drapes are constructed from an exterior woven 600D Oxford polyester fabric, which has a PU and waterproof coating, as well as an FR coating meeting the requirements of BS.5867. The internal fabric is thermal layer bonded polyester, with an FR coating that meets the requirements of BS.5852 – the complete drape being tested to BS.5867.
Easy to install, the drapes are fixed into position using one of the three fixing options – a spring-loaded extendable rail (up to 2.1m max. length); a series of suction hooks fitted to the walls (suitable for glass, mirrored or flat smooth polished surfaces); or magnets that are designed to be attached to the lift ceiling. Kits include your chosen fixing option.
Easily dismantled and fully reusable, they are available in kits to suit a range of lift sizes. Kits consist of three drapes (one with clear window for control panel access), one set of appropriate fixings, 'Caution Mirror/Glass Behind' sign, storage bag, and delivery to site. Drapes are available in a range of colours – beige, blue, grey, black and brown.
Lightweight and easy to install
Easily dismantled and reusable
Flame-proof tested to BS.5867
Use Ockwells CheckerTile or TwinShield as floor protection
Ockwells working in partnership with Kapok 88
| Description | Code | Dimensions |
| --- | --- | --- |
| 8 Person Lift Protection Kit, 3-sided car | 10657391 | 1100(w) x 1400(d) x 2200(h)mm |
| 13 Person Lift Protection Kit, 3-sided car | 10657387 | 1600(w) x 1400(d) x 2200(h)mm |
| 13 Person Lift Protection Kit, 3-sided car | 10657388 | 1100(w) x 2100(d) x 2200(h)mm |
| 21 Person Lift Protection Kit, 3-sided car | 10657392 | 1400(w) x 2400(d) x 2200(h)mm |
| On site survey (for bespoke sizes) | 10657393 | |