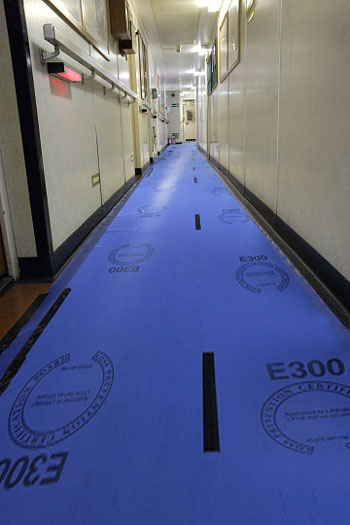 Call your local branch to enquire about this product:
MegaFilm temporary protection materials
Visqueen MegaFilm protection materials are available in Standard and Fire Resistant spanning a range of protection applications from heavy duty site conditions though to protection from dust, debris and liquid spills.
Flame Retardant grades are manufactured and certified under the Loss Prevention Certification Board (LPCB) approve scheme
LPS 1207: Issue 3 Cert 521a/03
All grades give a high degree of slip resistance in accordance with COSHH, HSE recommendations
MegaFilm products are backed by MegaFilm technical support. For details on specific uses
Attributes
Accreditations
Slip resistant film available in grades to suit heavy duty site conditions.
Product Options
| | |
| --- | --- |
| Description | Dimensions |
| Dust Cover (green) FR | 1500mm x 167m (250m²) |
| Carpet Protector (white) FR | 1500mm x 100m (150m²) |
| Light Duty (white) FR | 1500mm x 100m (150m²) |
| Marine Grade (Blue) FR | 1000mm x 100m (100m²) |
| Marine Grade (Blue) FR | 1500mm x 100m (150m²) |