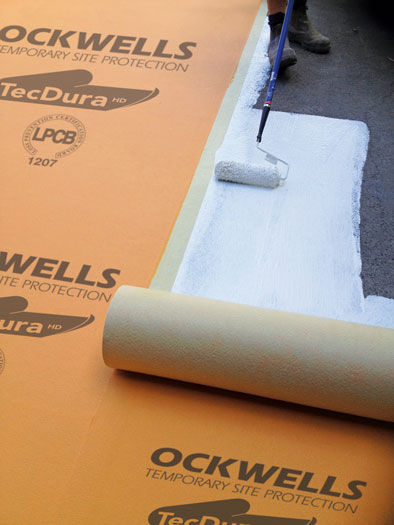 Call your local branch to enquire about this product:
About TecDura
Ockwells and TecDura specialises in innovative site protection systems. One of the primary products in the TecDura range is a revolutionary temporary protection in heavy duty and medium duty coverings which can be used to protect a multitude of finished surfaces from from damages, spillage and site wear and tear.
Products Overview
Simple, fast and easy to apply and remove – TecDura Mats offer a seamless, non-slip covering that adheres to the substrate
High level of surface protection – the TecDura comes in both Heavy and Medium and Duty grades
TecDura will protect against damage from machinery, spills, scaffolding, etc. and allow the finished surface to be handed over in original condition
TecDura is Certified Flame Retardant to LPS 1207: Issue 3 Cert. 1214a/03*/04**/05***
TecDura Stickymat can be used to protect a variety of substrates including concrete, marble, stone, tile and sealed hardwood
TecDura is comprised of three key components; an adhesive backing, a geotextile mat (made from 75% post-consumer plastic bottles) with a top coat
Covering Options
TecDura Concrete Sealer
TecDura Concrete Sealer is recommended for use in conjunction with the TecDura Mats
Acrylic polymer resin membrane forming liquid for curing and sealing concrete
Easily applied by spray, single coat application
75% curing efficiency
Cures and Seals in one operation
TecDura HD
For marine environments involving extensive ship building and refurbishment activity
Superior water and spill resistance
Protection for up to 9 months exterior and 12 months interior
TecDura MD
Building and refurbishment sites with low traffic and infrequent activity
Moderate resistance to water and spills
Protection for up to 9 months interior.  Not recommended for exterior use
TecDura Roller Kits are also available to purchase. These kits consist of 2 number Extendable Rollers and 1 number Paint Tray and are recommended for easier application of TecDura Mat.
Attributes


Accreditations

Product Options
| | |
| --- | --- |
| Description | Sizes |
| TecDura HD Mat | 1000mm x 50m |
| TecDura MD Mat | 1000mm x 50m |
| TecDura Basecoat | 10 litres |